What if you could get your
beautiful hair back
AND prevent future hair loss?
What if I told you there was a way?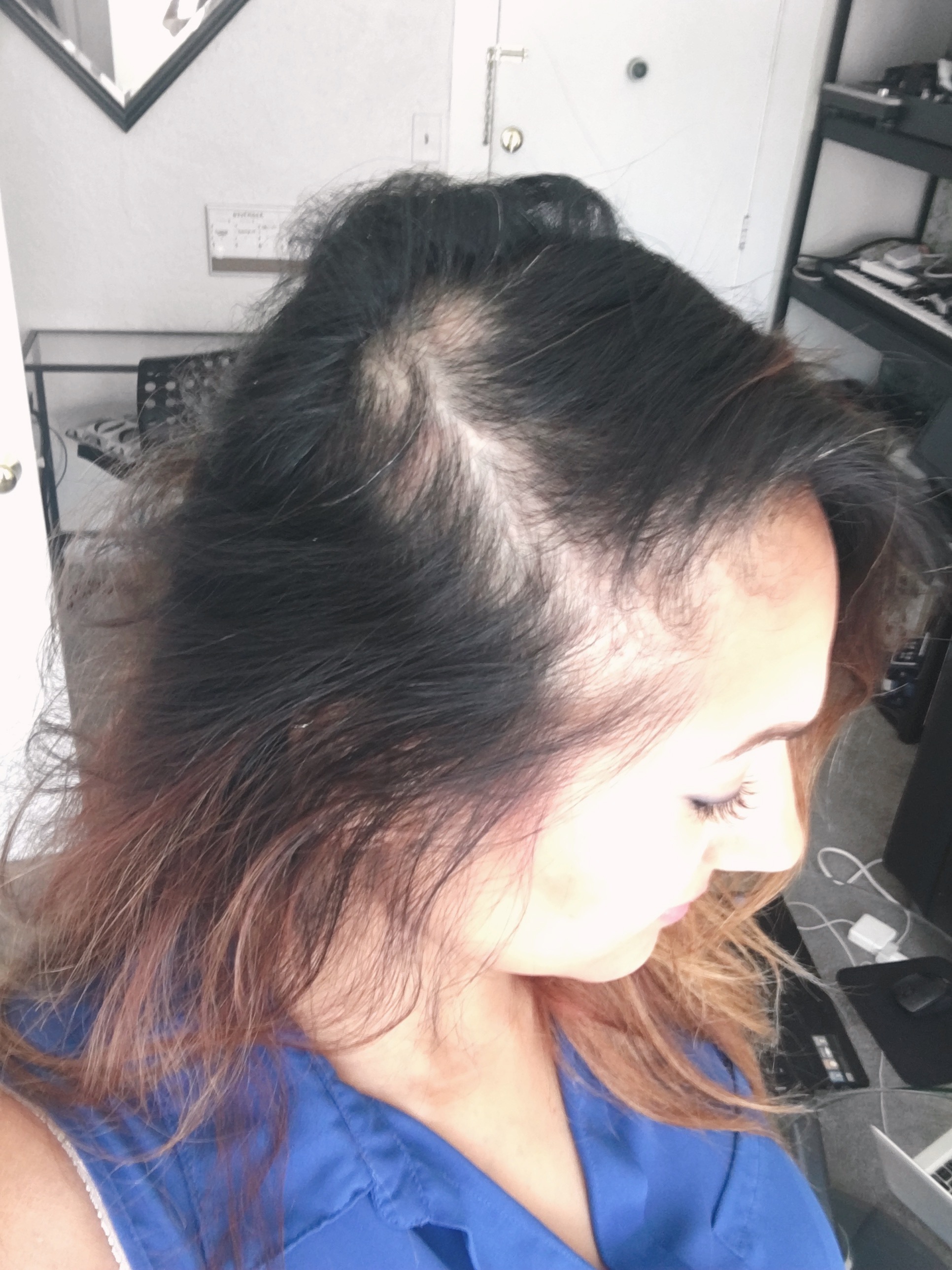 I've been where you are
and I know how you feel
I was so lost and didn't know what to do, where to start and so scared that all of my hair would fall out permanently
So I decided to take things into my own hands.
I did TONS of research, talked to countless specialists and implemented a natural method for regrowth.




This is what happened after using my
step by step method..
I regrew my hair and made it my mission to help countless others do the same!


I created the Hair Growth Intensive Coaching program and after working with clients 1-on-1 I decided to put everything I taught into an online course that you can follow at your own pace!
HGI Student's Experience: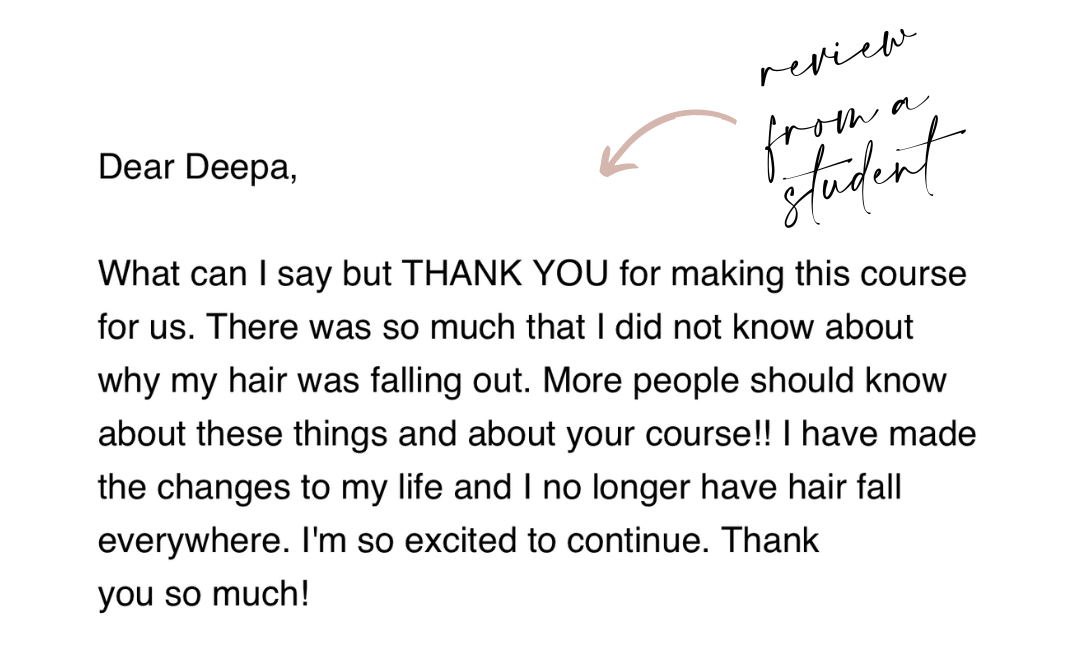 What you'll Learn
WHY
Once you understand why your hair is falling out, what causes hair loss, how hair growth works and what to do for your particular type of hair loss, then it makes it so much easier to implement the necessary changes to allow regrowth to occur
WHAT
Next we get into exactly what you need to do to regrow your hair. We break it down into a step by step method that you can implement at your own pace
HOW
We take this step by step method and break it down further by helping you determine which approach works best for you and your life
HAIR GROWTH ON AUTOPILOT
Once you've implemented the processes now it's time to sit back and allow your body the chance to heal and your follicles to regenerate.
A LIFE FULL OF HAIR
Once your hair has grown back in, now you're set up for a life full of hair and if hair loss happens to occur again, well you have all the tools you need to regrow, plus lifetime access to this course


Heal your body -> Reduce inflammation -> Balance your hormones -> HAIR GROWTH!
Just Imagine..
You've implemented the necessary changes and have been following the hair growth protocol for a few months and you wake up to find less hair on the floor.
You run your hands through your hair and no strands come out.
You examine your scalp in the mirror and you see a few tiny follicles starting to emerge.
All of this is possible for you!

Question:
I've tried the hair loss products and treatments and they haven't worked for me, how do I know this will work?
Answer:
Hair loss is about so much more than the products and treatments, more times than not hair loss is a systemic issue and to tackle that you really need to get to the root of what's causing it. That is usually due to inflammation in the body, hormonal imbalance, stress and HGI takes you step by step through the healing process.
Here's a Look at the Lessons in each Module:
HGI Coaching Student's Experience: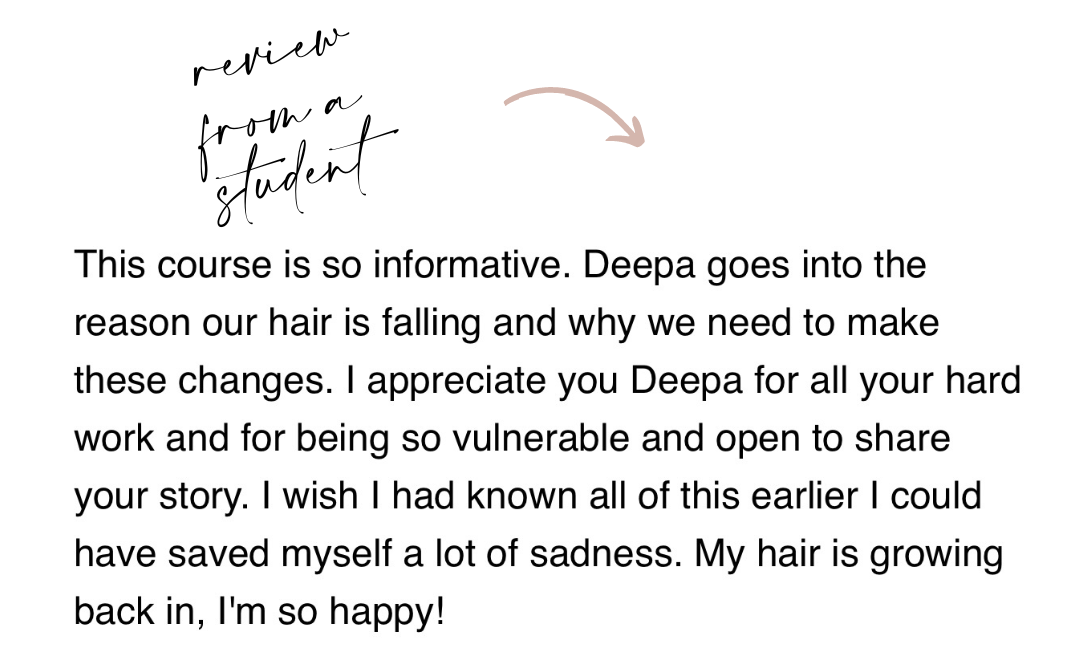 Question:
Will this work for my type of hair loss?
Answer:
Whether it be male or female pattern hair loss or alopecia areata just to name a couple, for the most part hair loss is due to inflammation in the body, hormonal imbalance and/or stress. In HGI we start off by helping you determine your type of hair loss and what approach in the course will work for you. So I do believe it can help a lot of you, and of course I'd love nothing else than to be able to guarantee that it's going to work but unfortunately I can't make those kinds of promises. All I can tell you is that it worked for me and for so many others.
Take a Peak Inside the Course:
(This is a snippet from the welcome video)